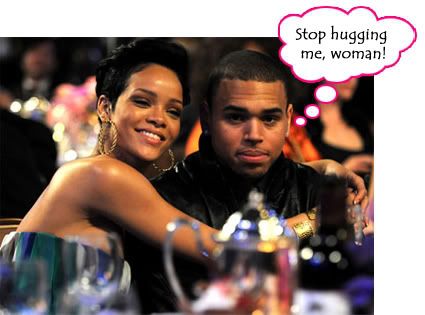 We all know about the big drama where
Chris Brown
has allegedly attacked his girlfriend,
Rihanna
, following
Clive Davis' pre-Grammys party
. Rihanna has allegedly told the police that Chris choked her while threatening to kill her, causing her to lose consciousness. When she came to, Chris had already fled the scene. Police have reported that Rihanna has horrific evidence of bite marks on her hands and fingers, and as well as contusions on both sides of her face. Chris Brown later turned himself in to the police but was later released on $50K bail.
In light of recent events, Rihanna has postponed her sold out concert here in Malaysia. A new
date is said to be announced two weeks from now so hold on to your tickets, everyone! Rihanna's 21st birthday bash which was to be held in NYC was canceled by her record label. Chris Brown has withdrawn from scheduled appearances at the NBA All-Star Events. The popular "Got Milk?" spots has dropped Chris Brown from their celeb roster. Wrigley's Doublemint Gum has halted its endorsement deal with the singer.
There are speculation that Chris could be sentenced up to nine years in jail or may not serve any time at all. Whether he serves time or not, his reputation will be tarnished (already is, actually).
To be honest, we at Namelia-J were shocked to hear this piece of news. I for one, love both of the singers' work and really thought that they made a cute couple. But beating up a woman? A huge no-no in our books. But we do not know for sure about what really happened so we can't jump to conclusions. Let's just wait and see. Stay tuned.